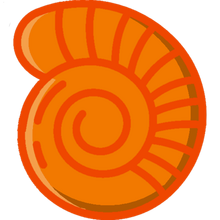 Shells are a currency in Bubble Gum Simulator. They are used to purchase everything in Beach World. These along with Beach World were released in Update 17.
Trivia
The base value of Shells when you pick them up are as follows: (base value is the amount of shells you get if you have no pets equipped or the 2x Shell Gamepass)

Single = 4
Box = 8
Small Chest (Purple) = 18
Medium Chest (Pink) = 35
Large Chest (Red) = 70
Extra Large Chest (Turquoise) = 130
Sandy Chest = 1,250
Shell Chest = 9,000
Sea Chest = 15,000

They are used to unlock Atlantis, which costs 20 million Shells.